Searching for The One? This collection of stories from men and women about dating -the good, the bad, the ugly – will encourage you, support you, and make you laugh as you navigate the dating game.
This fun new book about dating – whether it sparked a lifelong love or a laugh with friends – will give you a boost as you search for your soul mate. Read about how couples met, good and bad dates, maintaining the relationship, second chances, the Internet, and all the other ups and downs of dating, love, and romance. For men and women from 21 to 91.
Each daily devotion in this quarterly magazine includes a Scripture passage, an original meditation, and a brief prayer. Written by Christian writers from across the nation, these meditations share comfort and inspiration found in life's everyday details.  This combination of Scriptural and personal insight provides both a timeless and timely perspective for contemplative meditation that draws you closer to God in your daily walk as a Christian.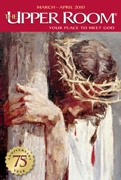 The Upper Room daily devotional guide contains meditations that show real people struggling to live faithfully in real-life situations, with the Bible as the touchstone for and measure of faithful living. The writers of the daily meditations that appear in The Upper Room are both laity and clergy and come from around the world. However, all in some way reflect the belief that God wills only good for each of us and that God calls us to lives of love, forgiveness, and service to others, according to the example of Christ.
Read Sue's devotional "God's Calm Presence".